This year is STILL all about knocking books off that ever-growing TBR pile. At least, in theory. It does, however, seem that I am NOT doing a very good job because I keep acquiring more books and not reading the ones I already own.
So, I've decided to take some drastic measures.
The Plan:
Book buying ban for the remainder of the year (the library is your friend)
Unhaul unread monthly TBR
May Book Haul

I've actually been really good about not buying books. The only book I bought in May was a cookbook and I'm sad to report, I wish I hadn't.
I didn't read that much in May. I got stuck on my DNF's and I'm such a (as I like to say) monogamous reader, that books I'm not enjoying not only slow me down but can bring my reading to a grinding halt. Which is what happened in May.
Read in May
Exhalation by Ted Chiang
Washington Black by Esi Edugyan
DNF'd in May
The Screwtape Letters by C. S. Lewis
The Problem of Pain by C. S. Lewis
Challenge Progress
Let's talk reading challenges. I suck at them, but I keep trying in hopes of one day completing at least one of them.
One of my May challenges was The Classics Club Spin #20. I was excited when the spin number came back and I was to read C. S. Lewis' The Screwtape Letters & The Problem of Pain, but O Lordy (no pun intended) I could not get into them. They tanked like a lead balloon.
By the Numbers
Back to Classics: 0
Beat the Blacklist: 0
Classics Club: 0
Reading Women: 1
TBR Pile Challenge: 0
State of the ARC: 1
Books Read in April: 2
Pages Read in April: 480
Books Read YTD: 9
Pages Read YTD: 1987
June TBR

I'm back to doing TBRs, at least for now. However, they will be much more fluid, so if I don't feel like reading a particular book I'm not going to force myself to. Perhaps I should call it the Loosey Goosey TBR.
Since June is Pride Month, I've decided to focus my reading on books written by LGBTQIA+ authors and/or have LGBTQIA+ main character rep. So, far I've read the graphic novel Bingo Love and you can find my review HERE.
State of the ARC challenge
NOTE: In my 20 Books of Summer post I included  Less by Andrew Sean Greer as part of my Pride Month TBR, well, I'm not going to have an opportunity to read it. 😞 I need to read an ARC for the State of the ARC challenge.
Coming in June
I don't know. I didn't write the Discussion or Review posts I planned for May.
My Most Anticipated Releases in June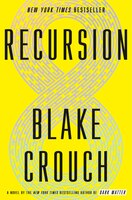 HAPPY READING!!