This year is all about knocking books off that ever-growing TBR pile. At least, in theory. It does, however, seem that I'm still NOT doing a very good job because I keep acquiring more books and not reading the books I already own.
August was all about the readathon to help me get caught up with my reading challenges. Did it work? Let's see.
August Book Haul

I'm quite proud of myself for the month of August I only bought . . . Wait for it. Wait for it.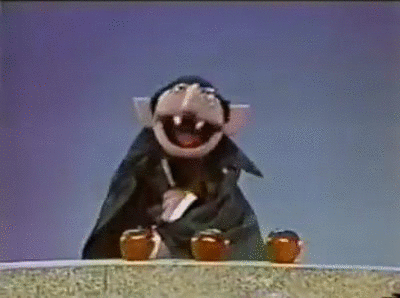 That's right, according to Count von Count and his superior counting skills, I bought 3 books. And truthfully 1 of 3 I may return. That is if the person who checked it out of the library ever decides to return it before my book starts reading it next week. It was due back a week ago and I've been on the hold list for almost a month. Anyway, enough of that.
Don Quixote by Miguel de Cervantes
The Three Musketeers by Alexandre Dumas
The Poppy War by R. F. Kuang (may return)
And I had the pleasure of winning Circe by Madeline Miller for participating in the 2018 Discussion Challenge.
Read in August
I read Sadie by Courtney Summers for ARC August. Oh my gosh! I said it once, but I think it bears saying it again. YA is killing it! I have read some really good YA in the last year and some odd months.
I read Giovanni's Room by James Baldwin for The Classics Club Spin #18. You can see my list here. I've read Baldwin before and have always enjoyed his writing style and storytelling. However, I did not enjoy it. Not even a little bit. I didn't like any of the characters.
I read Furyborn by Claire Legrand for ARC August and I have to say it was just meh. I'm wondering if I read it to soon after Children of Blood and Bone. To be truthful, I felt like I was reading another version of CoB&B, but without being invested in any of the characters.
I DNF'd Ahab's Return, or The Last Voyage by Jeffrey Ford for ARC August. I read about 5 pages and knew that it wasn't going to end well for me. I typically try to give books at least 25% before I call it quits, but I knew in my heart of hearts this was going to be a snoozefest.
Challenge Progress
Even though I'm not where I want to be with my reading I have made some progress with the reading challenges
Tsundoku Bingo Challenge: Read 3
TBR Pile Challenge: FAILED!
Back to Classics: Read 1
Read-a-thons
ARC August: 3 of 5
Bout of Books: 1
Women in Translation: 1 of 2
Books Read in April: 3
Pages Read in April: 989
Books Read YTD: 16
Pages Read YTD: 4315
September TBR

My September TBR reading list is ambitious
The Poppy War by R. F. Kuang (Bookclub)
The Sinners by Ace Atkins (ARC from publisher)
The Boy at the Keyhole by Stephen Giles (ARC from publisher)
And three other books. I asked for you to choose which books I read for September for each of the following challenges. Thanks to those that voted. And the winners are
2018 Official TBR Challenge

Americanah by Chimamanda Ngozi Adichie

Back to Classics

Turn of the Screw by Henry James

ARCs
Coming Up in September
Discussions:
The Rise and Fall and Rise of the Bookstore
What Makes a Literary Classic
A Reader's Manifesto
Reviews:
Kindred by Octavia Butler
Furyborn by Claire Legrand
And hopefully books read in September
And do you see a number theme? If not, I refer you back to Count von Count.
HAPPY READING!!