There are a lot of things on my Christmas Wishlist and not all of them bookish
Top Ten Books I Hope Santa Brings
Bookish wish list
1. The Outsiders 50th Anniversary Edition by S. E. Hinton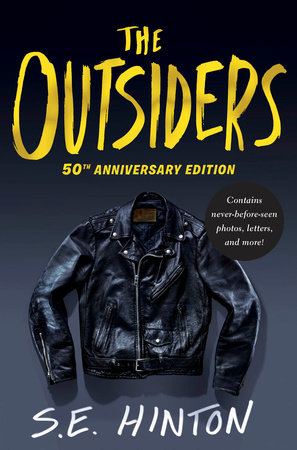 When I first read it had already been out for about 14 years and it resonated with me so much. Although it's about 4 white guys growing up in the South poor, I could relate as African-American female growing up outside of Washington, DC in an upper middle-class household. The Outsiders, to put it simply, is about finding your own way even when it's not cool.
2. The Crossover by Alexander Kwame
I remember seeing this book a while ago, but it didn't hit my radar until earlier this year when I was at work and a lot of kids had it on their summer reading list. I took a gander at it and thought it sounded interesting.
On the surface The Crossover looks simple. It's about twins Josh and Jordan who play basketball. But it's a much deeper, more complex novel about the challenges that exceptionally "average" characters can have. It's written in verse narrative, which I always find intriguing.
Click here to read The New York Times review.
3. Exit West by Mohsin Hamid
I read the description of this one day and thought it sounded interesting. I gathered it was because I was coming off Dark Matter. Nadia and Saeed hear rumors about doors being able to take people away from their war-torn city. And of course there is a price to paid.
4. Dear Martin by Nic Stone
I saw this title floating around as folks were reviewing ARCs and with each review I said I have got to get this and read it. One reviewer told me:
Be prepared to do self-care after reading Dear Martin. I had to read something fluffy after because it was so emotional.
5. American Born Chinese by Gene Luan Yang
I checked this out from the library in eBook form and trust me when I say the eBook does not do this book justice. American Born Chinese is funny, witty, yet complex. It weaves three-story lines together that are not obviously connected until the end. What the what?
6. Jam on the Vine by LaShonda Katrice Barnett
I saw this book last year and it's been on my unofficial TBR since then. Ivoe Williams is an African-American woman who is determined to be a journalist in the Jim Crow South. And on top of that she's attracted to women. Oh. My. Gosh. That in and of itself sounds pretty intense.
You can read  the NPR interview here.
7. Simon vs. the Homo Sapiens by Becky Albertelli
Barnes and Nobel has a thing where you can sample Nook Books and this one popped up during the time I said I need to start diversifying m reading. I read the sample and thought okay now I've got to get it.
Sixteen-year-old and not-so-openly gay Simon Spier is being blackmailed. If he doesn't play wingman to class clown, Martin, his sexual identity will become known and it threatens a secret correspondence with the hottest high school football player.
8. Everything Here is Beautiful by Mira T. Lee (Jan. 2018)
I came across this book when I was looking for 2018 book releases. It sounds interesting and plus I liked the cover.
Two sisters: Miranda, the older, responsible one, always her younger sister's protector; Lucia, the vibrant, headstrong, unconventional one, whose impulses are huge and, often, life changing. When their mother dies and Lucia starts to hear voices, it's Miranda who must fight for the help her sister needs — even as Lucia refuses to be defined by any doctor's diagnosis. (Goodreads summary)
9. Call Me Zebra by Azareen Van der Vliet Oloomi (Feb. 2018)
This one caught my attention because of the title and all colors. Side note: I'm not fond of the cover. It doesn't fit the title and/or the description.
A feisty heroine's quest to reclaim her past through the power of literature—even as she navigates the murkier mysteries of love. (Goodreads)

So, as a bookworm it kind of makes sense to be attracted to a book in which the protagonist perception of the world is based on literature.
10. Macbeth by Jo Nesbo (April 2018)
This is the latest installment of the Hogarth's Shakespeare Series. It's Nesbo's retelling of Macbeth. Click here to read the full review.
---
Top Ten Tuesday is a weekly meme hosted by The Broke and the Bookish.