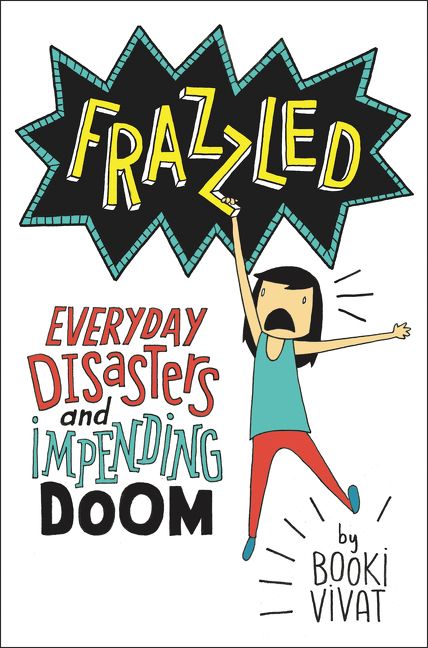 Title: Frazzled: Everyday Disasters and Impending Doom
Author: Booki Vivat
Format: Paperback, 219 pages
ISBN-13: 978-0062398796
Publisher: Harper Collins
Release Date: September 2016
🍒🍒🍒🍒🍒
[Read | Skim] [Buy | Borrow]
Disclaimer: I received this ARC for free in return for providing my honest and unbiased review.
I actually received this last year and forgot I had it – life happened. I found it the other day and decided to read it as an interim break from William Faulkner's A Fable. It's a super quick read. I read it in just a couple of hours and the drawings added another dimension to the novel.
I don't typically read Middle-Grade books, but when I saw this I thought it looked fun – and it was. It brought back some pleasant and not so pleasant, but mostly pleasant, memories of my middle school years.
I remember the angst of starting middle school (back then we called it junior high and it was 7th and 8th grades, not 6th-8th). Anyway, Vivat successfully captures that middle angst in her debut novel Frazzled: Everyday Disasters and Impending Doom. I don't know of any middle grader that doesn't think the world is going to collapse in a ball of fire and they'll be trapped with no escape and Abbie Wu, our protagonist, is no exception.
As a middle child, Abbie thinks, as she calls it, the 'middles' are the worst because:
Vivat took me back to that first day angst of starting something new. It's frightening, even now as an adult I still get the same pangs I had when I was Abbie's age.
Prior to the first day of middle school, Abbie and a couple of friends sat down to try to figure out what she was going to pick as an elective and what her 'Thing' was. Her friend, Maxine's Thing is acting, so she chose drama as her elective after she got bit by the acting bug and Logan's Thing was figuring out games so he chose a video game coding. And as far as Abbie was concerned she was facing certain DOOM because everybody had a [T]hing, except her.
Despite Abbie's feelings of middle school doom and gloom, she does find one thing terribly exciting – LUNCH. Finally, her dream of eating REAL cheese pizza, burgers and fries, and chicken nuggets would come true.
Or would it?
Abbie found her [T}hing and her voice with unexpected allies, results, and consequences. She now knows that she can make a change and how she can do it.
I would definitely recommend Frazzled to parents of middle schoolers because it shows that not everyone knows who they are or knows what their [T]hing is. As her brother, Pete says:
But sometimes you won't know for sure if you're doing your Thing.

Or your Thing will change. You might be absolutely sure one minute and then later, you're not.

Don't think about it so much. The truth is, no one really knows for sure.